Register today
Register today and TAKE YOUR FIRST COURSE ABSOLUTELY FREE OF CHARGE!
Afterward, you can always continue your education on MyEducational.tv by purchasing further courses or modules.
Sign up
Benefits
Enrolling in our courses and focus on What MyEducational.tv Has to Offer:
Still Unsure?
Check Out What Our Satisfied Customers Have to Say About
MyEducational.tv
What our fantastic users say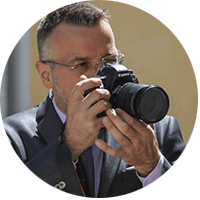 "In 2014, I bought my first DSLR camera and the same evening I wanted to throw it in the bin. It didn't want to "work" in pitch darkness, even though it had an integrated flash. I found Boris on the net and that's where our collaboration starts.
I can freely say that I learned a lot from Boris and even today when I have a dilemma regarding the equipment, or anything else, I write to Boris and get very useful advice in a short time. A big THANK YOU to Boris for his knowledge that he has passed on to me so far related to photography, but also to the philosophy of life, which is very important in every business, even
this one. "
Marko Šarenac
Hobby and stock photographer, attending online courses of photography from 2014-2018
"As a beginner in photography, I was pleasantly surprised by the detailed and gradual explanation of the basics about cameras and their use, and then image processing.
The instructor always explains the topics in detail and is always willing to provide additional explanations and recommendations regarding the purchase of equipment.
Knowledge from the course is invaluable to me and I use it on a continual basis doing photography and video recording for the site I run: https://biljnaishrana.com
Marina Grubić
BLOGGER, YOGA INSTRUCTOR